Venue
Universidad de Cádiz
Escuela Universitaria de Enfermería y Fisioterapia ver mapa
Avda. Ana de Viya, 52
11009 Cádiz, España

Cadiz
Located on a headland that juts out into a bay, Cadiz is almost entirely surrounded by water. The city has an amazing and colourful past that can be traced back the Phoenicians in 1100 BC and it is considered to be western Europe's oldest city. Moorish in appearance, the city centre is made up of cobbled, narrow streets and charming little squares.
The conference venue is close to the city's Victoria beach. The city centre is located a short taxi or bus ride away.
Travel Information
The closest airport to the conference venue is Jerez de la Frontera (XRY) which is about 30 minutes by taxi from the conference venue (taxis cost is approximately €45). Iberian/British Airlines and Ryanair both fly into Jerez. Alternatively, Easyjet and British Airways both fly daily into Gibraltar (approx. 1 hour drive) and Malaga (2 hour drive via Marbella).
See the Conference location here and Jerez del la Frontera Airport Information Page here.
For information about the University, click here.
Some Accommodation Suggestions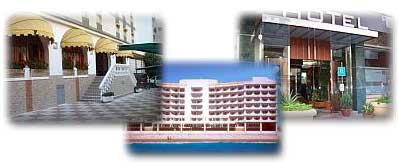 For accommodation booking details, our travel agent in Cadiz is:
José Luis Castillo Olveira
Email: joqca-centro@barceloviajes.com
Telephone: +34 (956) 212 223
Fax: +34 (956) 213 085
There are a number of hotels close to the Conference venue:
Playa Victoria Hotel Cadiz

Glorieta Ingeniero La Cierva 4, 11010 Cádiz, Spain


Tryp la Caleta Hotel Cadiz

Av Amílcar Barca, 11009 Cádiz, Spain


Barcelo Cadiz

Av De Andalucía 89, 11009 Cádiz, Spain

Regio I Hotel Cadiz
Av De Ana De Viya 11, 11009 Cádiz, Spain


Regio 2 Hotel Cadiz

Av De Andalucía 79, 11009 Cádiz, Spain